Cinderella's Closet was adopted by the Junior League of St. Joseph in 2009. The program offers free prom dresses and accessories to area high school girls.
The Closet schedules six giveaway dates a year: two in the fall for the military ball, and four in the spring for prom. Along with a formal dress, Cinderella's Closet provides girls the opportunity to pick out their prom night accessories including jewelry, a purse, and shoes. Junior Leaguers are there every step to ensure the best fit and style, and to make sure high school girls leave with a smile!
Planning and advertising of Cinderella's Closet includes our annual fashion show at East Hills Mall, fundraising events at local restaurants, and spreading the word about our organization via social media.
The majority of the formal dresses available through Cinderella's Closet are donated from members of our community. We are always taking donations of formal dresses, formal shoes, jewelry, purses/clutches, or monetary donations, so that we may purchase additional items. Donations can be dropped off at Maurices, located in East Hills Shopping Center, or the AFL-CIO, located at 1203 North 6th Street, during business hours.
Cinderella's Closet is proud to serve high school girls from all over the area, including Kansas and even Iowa!
Our location is 3007 North Belt Highway, Suite E, St. Joseph, Mo. 64506.
Please be sure to follow the Junior League of St. Joseph on social media for the latest information about Cinderella's Closet!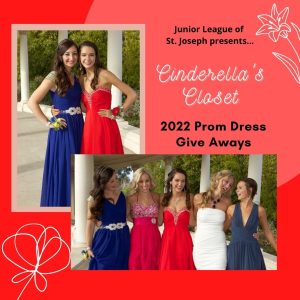 2022 Cinderella's Closet Giveaways
Cinderella's Closet Dates & Times:
📆  Wednesday, April 13, 5:00 – 8:00 p.m. – Giveaway, by appointment preferred
📆  Wednesday, April 20, 5:00 – 8:00 p.m. – Giveaway, by appointment preferred
Sign up for our weekday giveaways in 3 easy steps!
2) Review the options listed and choose the spot(s) you like.
3) Sign up! It's Easy – you will NOT need to register an account or keep a password on SignUp.com.
Note: SignUp.com does not share your email address with anyone. If you prefer not to use your email address, please contact us. 
Appointments will be 60 minutes each. Students may bring 1 guest with them to their appointment.